There is a great opportunity with Ghana for you as a location to set up your Fashion Made in Africa (FMIA) business. We will explore this over four blogs

Lesson 1 about Why Ghana for your African sourcing strategy.

Why is GHANA a great place for production right now?

Well first up is that they have a GREAT VISION

The country of Ghana has a history of wealth and strong culture and was originally referenced as the Gold Coast in West Africa.

Equally known for its beaches, diverse wildlife, old forts, coastal towns, historical colonial buildings and castles turned museums it is a country with great beauty and history to be explored.

Due to its large market size and its simplicity of doing business internationally, Ghana has now become one of the top African countries to visit on various business arenas today for those who are first entering the African market.

For business, it is a market without too much competition with relatively low risk, specifically with security. For the fashion industry, there is an abundance of various artisan skills, traditional textiles, some garment production units too and high opportunities. Great for SME businesses, as well as for the larger retailers, to source from and produce in.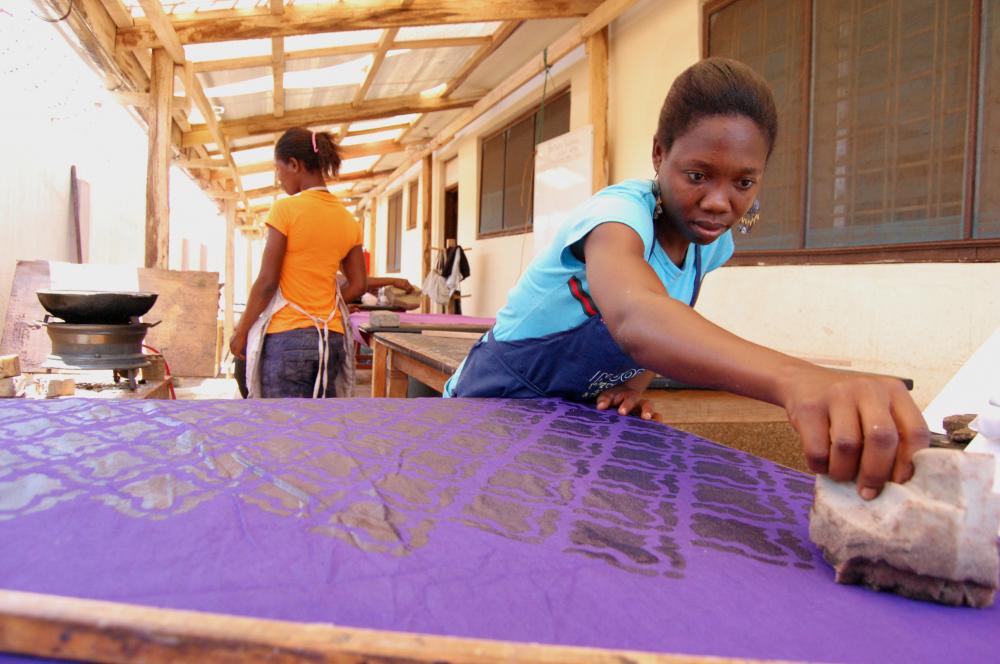 Above this the government are invested. They have a vision and a mission to the point of creating policy reforms to make Ghana the most business-friendly nation in Africa. They aim to catapult and accelerate socio-economic development and prosperity for all.

The Vision – "GHANA BEYOND AID" continuously applies

Economic growth and job creation is one of their key drivers and agenda for the coming years. This is underpinned by an aggressive industrialisation plan that focuses a lot on value addition within areas such as processing of agriculture and manufacturing.

President Akufo-Addo of Ghana has declared during his meeting with French President Macron's visit a couple years back was "It is not right for a country like Ghana, 60 years after independence, to still have its health and education budgets being financed on the basis of the generosity and charity of the European taxpayer. By now we should be able to finance our basic needs ourselves."

The President believes that "The African continent when you look at its resources should be giving monies to other places. We have huge wealth on this continent."
Ghana's Textile and Clothing sector is a key component of the local culture and a driver of wealth, being its tradition of textiles and use of symbols within this to tell stories and history. And so the government have declared the following investment opportunities available are in the areas of:

Production
to set up factories in Ghana to produce for the US market.
Marketing and Distribution
Buyers and sellers to make exploratory visits to Ghana and request orders

Textile manufacturers to set up factories in Ghana to supply fabrics.
Raw Materials
Fabric suppliers to supply raw material requirements for Ghanaian textile manufacturers.
Technological and Supporting Services
Suppliers of textile manufacturing equipment to supply the Ghanaian market on a sustainable basis.

Need for suppliers and financiers of factory building technology.

For these very reasons that back in 2009 I visited Ghana for the first time and I decided that Ghana would not only be the first African country that I would visit, but would also be the place I would choose to start my own African clothing business.

I worked with local tailors as well as batik artisan womens' groups to produce my clothing line and create my own textiles too. It was a dream come true! To have my own brand and to produce it in a country that I saw a strong future in and personal alignment with.

My clothing label Akabi Designs in 2009 – made in Africa using traditional textile techniques and sustainable materials.

With some fashion Export Processing Zones, an array of crafts and artisanal skills, a buzzing basket and kente weaving industry and jewellery making from recycled brass and beads, there are the opportunities for a variety of businesses to work with for your international businesses.

These are the types of businesses we will be visiting in and around Ghana in 2022 where you are invited to join too on our next 

Fashion Africa Sourcing Trip

 to Ghana!

Why not join us in Ghana next year to get your business started AND with the added bonus of having myself your African Fashion Business Coach close to hand. This means you will get there even faster! AND you can be part of Ghana chartering its own path toward wealth and away from aid.

SO if you are spontaneous and serious about setting up in Africa then reply to this email to beat the crowd and sign up early! See the video here from our previous trip: 

FAST Ghana

Look out for part two to why you set up your sourcing for your fashion made in Africa business in Ghana where I will break down the actually opportunities for business that exist in Ghana.